One of the essential elements of managing a successful website is making sure that the navigation system on your web pages is accessible and logical.
Keeping your website's visitors happy and engaged by providing them with a fantastic user experience in terms of accessible and intuitive navigation is a sure way of raising your website's popularity and SEO ranking.
There aren't as many frustrating things as scrolling down to look for a piece of information and then being unable to return to where you were initially due to a lackluster navigation system.
Thankfully, there are great options that will help you achieve your website's desired level of navigation optimization.
WP Sticky is a plugin that considers all of these factors and creates a fully customizable sticky element on your web pages, one of the best ways to tackle any navigation issues you might have.
What is WP Sticky?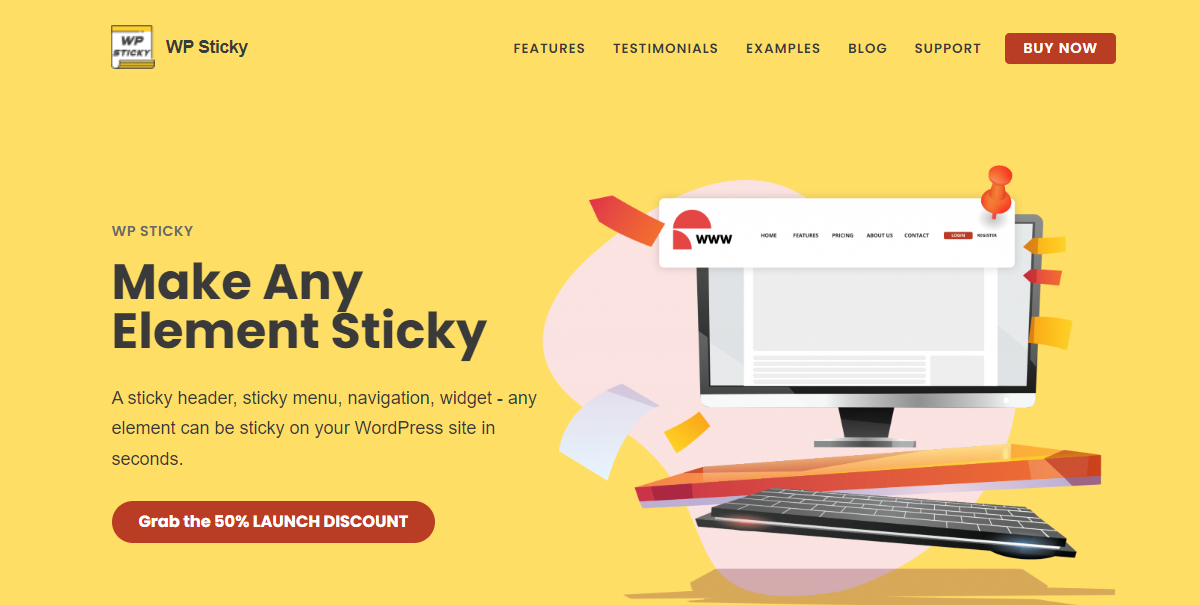 In a nutshell, WP Sticky is a WordPress plugin that allows you to create sticky elements for your website without writing any code. The no-code approach of this plugin makes it suitable for both newer users and tech-savvy individuals. WP Sticky allows you to stretch your creativity when customizing your web pages, whether you want to create a sticky header, menu, or video.
WP Sticky is used daily by more than 100 thousand (and counting) users worldwide, with more coming aboard each day. The plugin's popularity is due to its functionality as a product with a quality that is hard to match and easiness of use, and accessibility to a broader audience. It is also compatible with all other plugins, themes, and page builders, making your life much easier when dealing with compatibility issues.
The fact that it is no-code allows you to pick any element of the screen, which gives it an unmatched degree of accessibility. Hence, this is especially important for users who might not be as tech-savvy as others working with WordPress for a more extended period.
WP Sticky also offers usage of unlimited sticky elements, so you can stick as many elements as you like without having to worry about reaching a limit. Once you download and install WP Sticky, you can start making anything stick in less than a minute, without any complex and convoluted process or tutorial.
How do I use WP Sticky?
The user interface for WP Sticky is very simple and intuitive, but it also has plenty of features to keep you exploring its limits. You will have to create a new sticky element and name it, at which point you are already successfully using the plugin. Find the Settings menu, after which you will have to find the plugin itself, and you will be ready to start playing with it.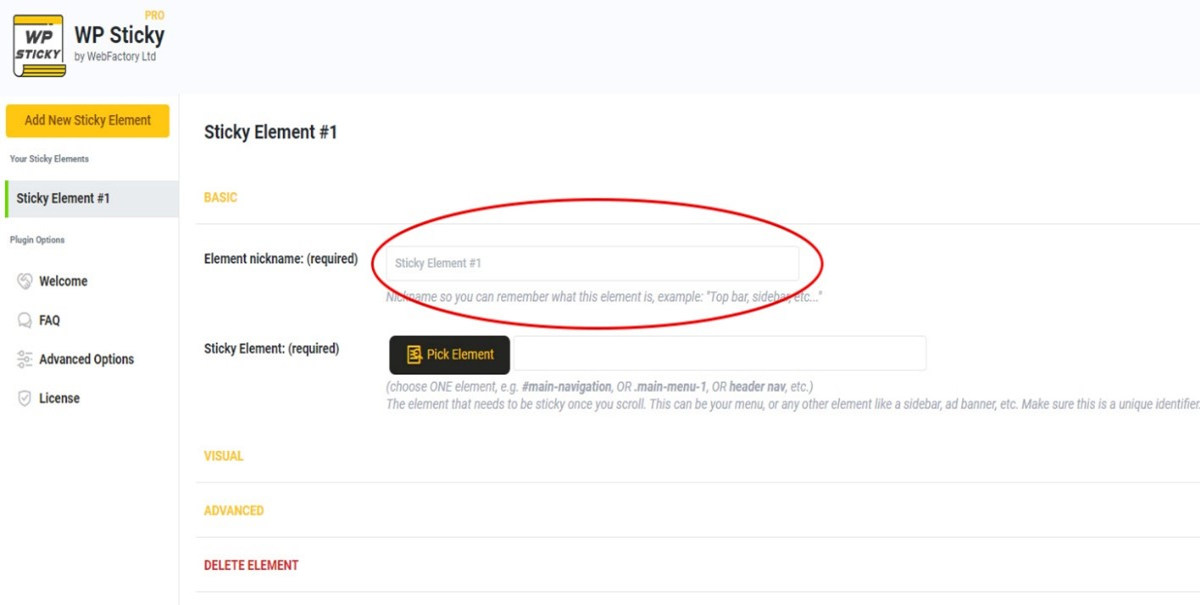 One of WP Sticky's most outstanding features is the visual picker – an automatic system that lets you pick elements to stick on your web pages. Instead of manually searching for identifiers, click the "Pick Element" option, and your website will load up, along with the WP Sticky menu on top.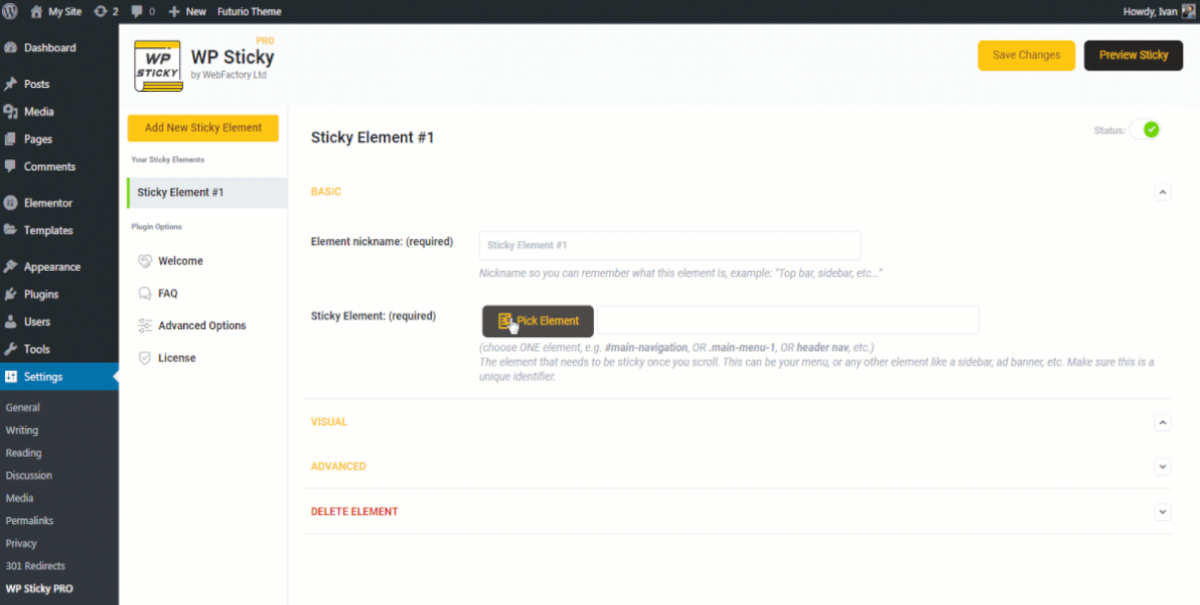 By moving your cursor, lines will form around different elements on your pages, which helps you find the identifier for your sticky element. After clicking on your desired piece, the plugin automatically locates your identifier.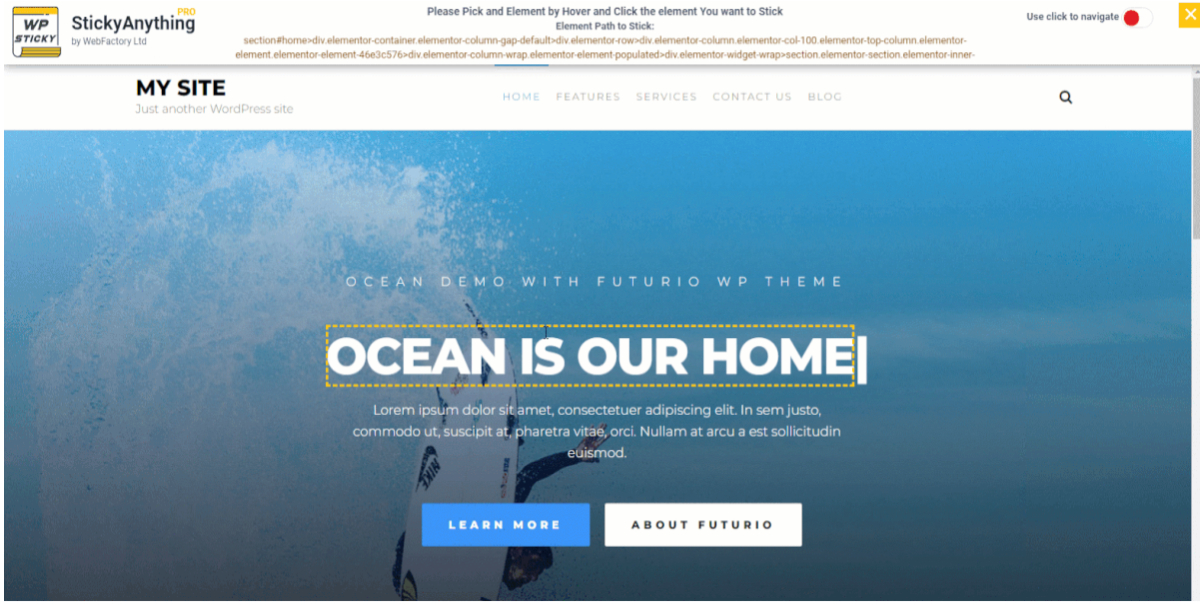 After setting up your desired element, an entire world of customization options opens up to you. The plugin allows you to choose the sticky element's position. It also allows you to leave enough space between the top of the page and the sticky part by selecting the number of pixels between the two. Adding effects to your sticky parts is also an option, and choosing the opacity and background color.
WP Sticky is also conscious of usage on different devices, so you can choose which platform you want to make your sticky element visible. For instance, if you want an element to be present on the mobile version but not on the desktop version, this plugin will allow you to set it up without much hassle.
WP Sticky has much more to offer and many more amazing features, such as the possibility of setting a Z-Index, adding a custom CSS, and changing the scroll range. There are also the advanced settings for those who want to explore the plugin even further, where users will be able to control at which screen size will a sticky element be visible, set up a push element, and more.
Pricing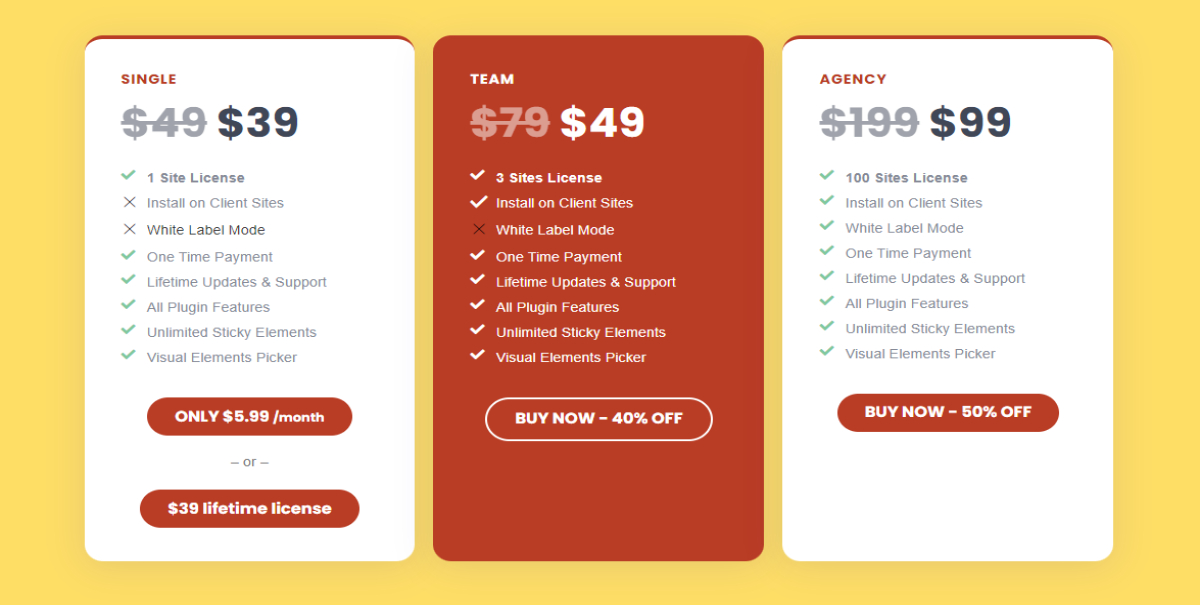 WP Sticky has three different prices, depending on your needs and the number of clients you're working with.
Single is the first plan, and it comes at a one-time payment of $39 (discounted from $49), and it includes one site license with all features included and a lifetime guarantee of support and updates. This plan is great for individual users and freelancers who want to step up their WordPress game.
The second plan is called Team, and as the name suggests, it is oriented towards businesses that deal with a smaller number of clients. This plan comes at a one-time payment of $49 (discounted from $79), and you will receive licenses for three sites, with the option of installing the plugin on client sites, all features included with a lifetime of support and updates.
The third and final plan is the Agency plan, tailored toward businesses and individuals who work with many clients and want to solidify their brand identity. This plan comes at $99 (discounted from $199). It includes licenses for 100 sites, installing the plugin on client sites, an Agency-only white-label model, all features included, and a lifetime of updates and support.
Conclusion
WP Sticky is a unique and reliable plugin for creating sticky elements on your WordPress websites. Considering WP Sticky's utility and customization options, it is hard to find an alternative plugin in the same category that would match it, both in user experience and pricing.
If you are an individual who works with a smaller number of clients or part of a business that deals with many clients, this plugin will surely help you achieve a higher degree of positive user experience and client satisfaction.