Shipping is one of the most important aspects of any WooCommerce store because it significantly impacts the customer experience.
You can grow your eCommerce business in many ways, but shipping can be challenging to store owners because of logistics and technical challenges.
Thankfully we live in an era where there is a plugin for every problem. So when it comes to product delivery, a WooCommerce shipping plugin is a definite must.
Shipping plugins help extend your online store functions and allow you to choose numerous shipping options for your WooCommerce store.
They make the delivery process much easier and let you focus on creative work. Most plugins integrate with popular shipping services, which will allow worldwide shipping.
The tricky thing is choosing the right one in a sea of plugins, but luckily for you, we have created a list of the best WooCommerce shipping plugins in 2022.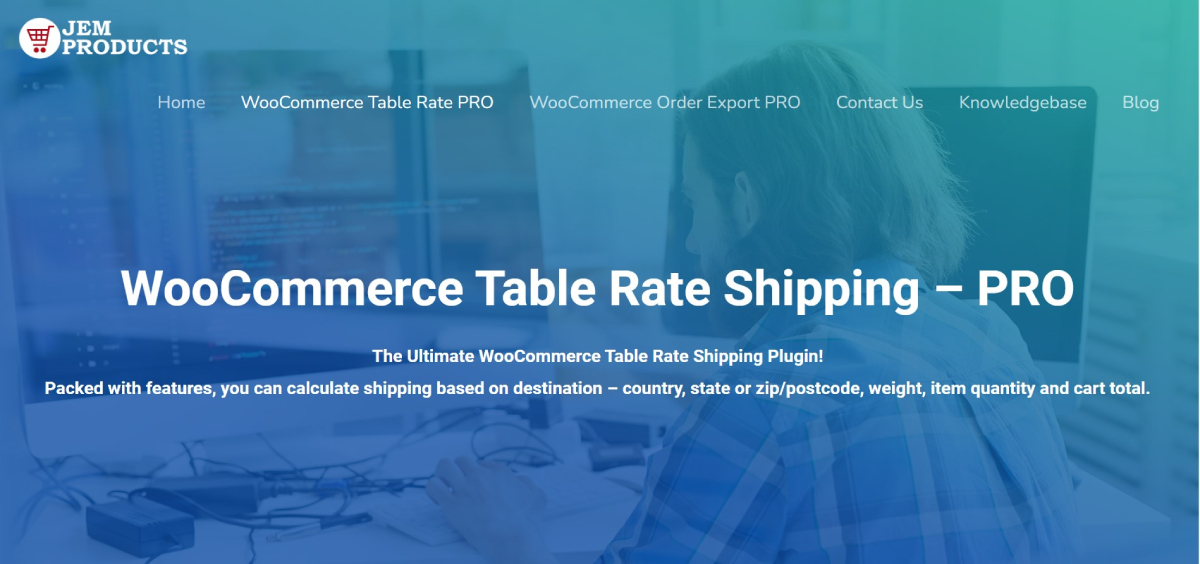 WooCommerce Table Rate Shipping is a fully customizable WooCommerce plugin. It is simple and easy to use and provides your site with conditional shipping.
This plugin has an intuitive user interface and integrates seamlessly with WooCommerce shipping zones.
It allows you to define shipping labels by weight and total cost (minimum to maximum). You can also include or exclude tax, set up multiple tiers, and add additional handling fees for every order.
If you want additional features for your store and an even higher success rate, you should try the WooCommerce Table Rate Shipping's PRO version.
With the PRO version, you can set up unlimited shipping services such as standard, express, and overnight. Shipping can be managed by Country, State, or Postal Code.
The built-in shipping classes allow you to create complex rules.
You can base shipping on the number of cart items and calculate it based on item weight. You can also add a handling fee to each order.
You get total control and flexibility with this plugin. And get a shipping rate plan that matches your business.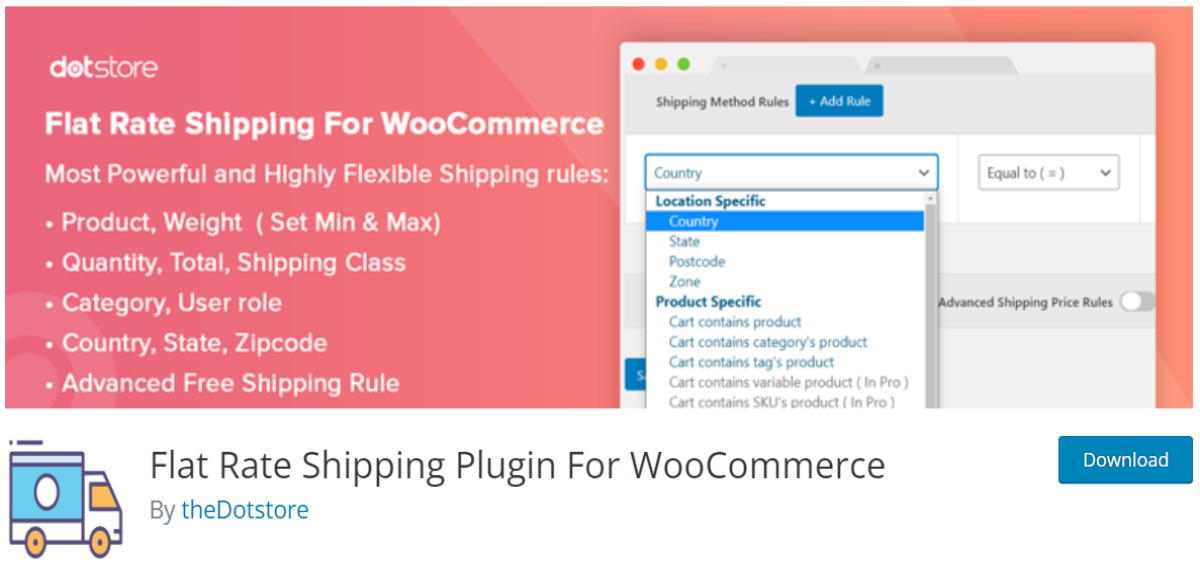 Flat Rate Shipping is an easy and flexible shipping plugin for WooCommerce store owners. It lets you create custom flat rate shipping methods based on the product, location, quantity, category, and more.
With this plugin, there are multiple ways to create free shipping. You can enable and disable a table rate shipping method and set a fixed cost-based shipping method.
Also, create user-based shipping methods and use the shipping display mode with Radio Button and Dropdown.
The plugin lets you delete existing shipping methods, set tooltip descriptions, calculate tax, and clone existing table rate shipping.
It lets you show shipping methods only for logged-in users. You can also allow free and advanced shipping rules based on many product features. Flat Rate Shipping is a top-notch plugin with fast and helpful customer support.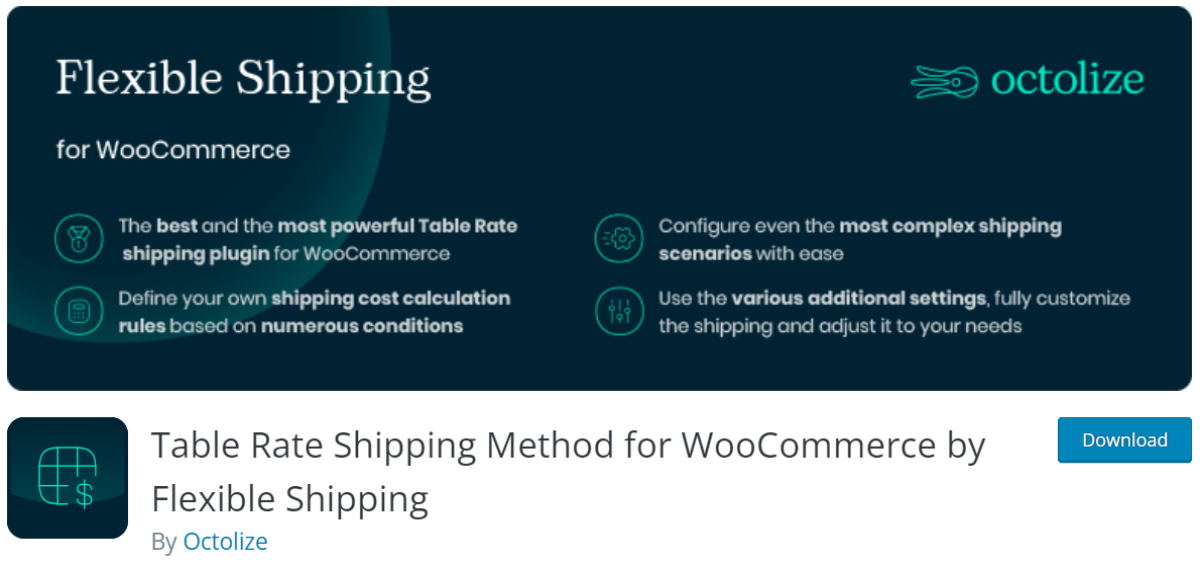 The Flexible Shipping plugin is an advanced WooCommerce plugin. It lets you calculate shipping costs based on weight and cart total.
With this plugin, you have unlimited shipping methods and cost calculation rules. You can add descriptions and titles to shipping methods and set minimum and maximum values for cart total and weight.
You can sum up the cost of different rules and the same time. There is also the option to display selected shipping methods only to logged-in users.
It integrates with many shipping companies, has read-to-use scenarios, and offers automatic notifications and cart calculation settings.
The Flexible Shipping plugin offers many great features and outstanding customer support.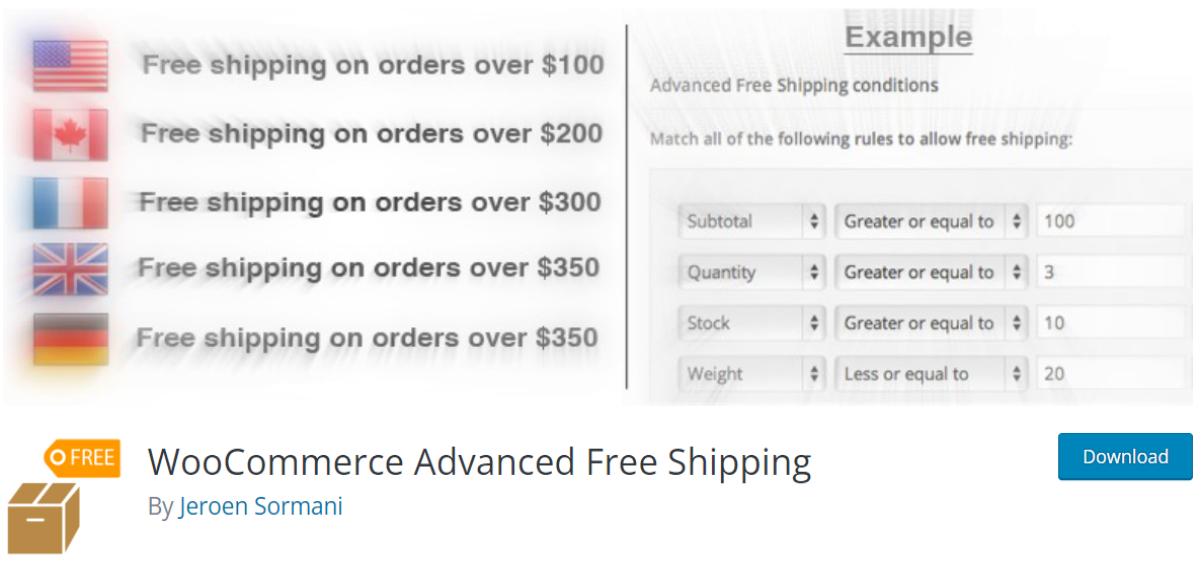 The WooCommerce Advanced Free Shipping plugin gives you will control over free shipping rates. It lets you set up rules to determine when free shipping should be available for the customer.
You can create multiple 'OR' and 'AND' condition groups with each shipping rate. So you can easily set up a free shipping rate for many user roles in one shipping.
Many default shipping conditions are available, such as subtotal, user role, zipcode, shipping class, category, volume, width, length, height, and more.
This plugin is easily extensible, which means you can add custom conditions via code snippets.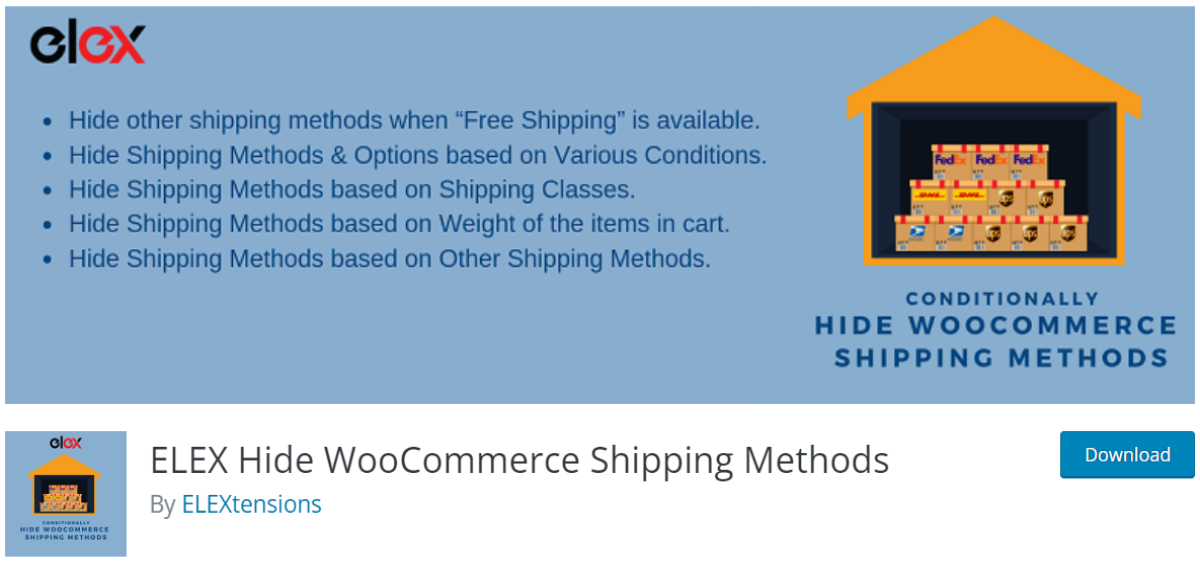 The ELEX Hide WooCommerce Shipping Methods plugin lets you hide some shipping methods based on shipping order, class, weight, etc. You can hide default shipping methods and third-party shipping services such as DHL, USPS, UPS, FedEx, etc.
It can hide all shipping methods when a free or local pickup is available.
You can also hide shipping methods and options based on various conditions and configure those conditions based on filtering options.
ELEX Hide WooCommerce Shipping Methods lets you create and manage an unlimited number of rules and is easy to use.
Final Words
These amazing WooCommerce plugins make shipping management easy and fast. They are reliable and offer 1st class customer service.
The plugin that stands out is WooCommerce Table Rate Shipping. It is a must-have plugin with all the features you will ever need.
Another plugin you should check out is WooCommerce Order Export. This plugin quickly exports data from your WooCommerce store into Excel (XLS, XLSX) or CSV formats.
It was tested on Windows and Mac and proven to be reliable. WooCommerce Order Export is perfect for exporting products, orders, and other data.
It is easy to set up, has a simple user interface, and provides various filters.