Google Analytics can provide your WordPress site with extremely valuable data concerning your visitors. The information you get can greatly help you evaluate the demographics of your visitors as well as predict their behavior. This leads to better optimization of your marketing strategies, so you can increase your traffic and sales. In this article, we'll cover the best Google analytics plugins in 2023:
Google analytics plugins
WP Statistics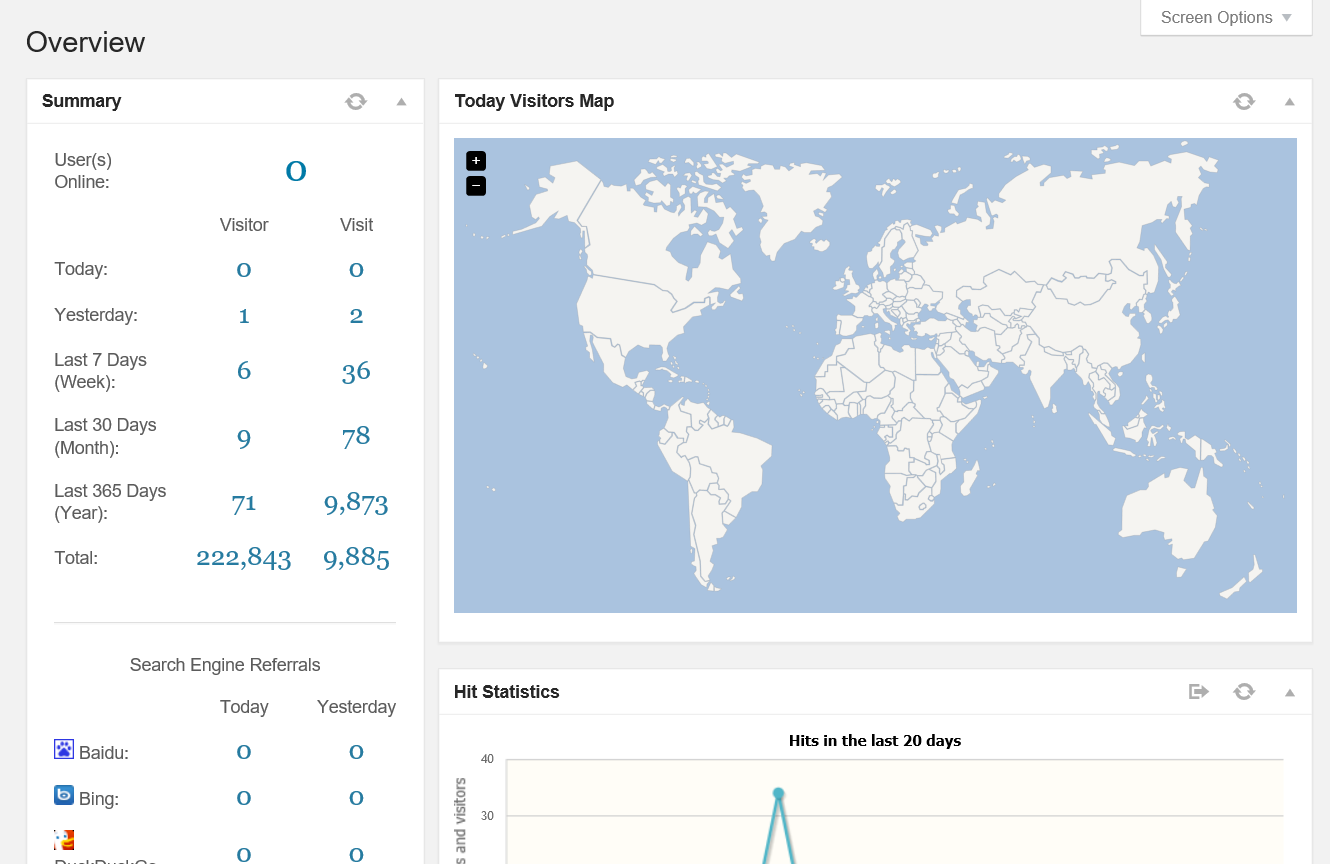 WP Statistics is a nifty little simple tool. Its interface won't give you a headache so it's quite user-friendly. This tool allows you to check out the locations where your visitors are from. It also gets you the info on the sites they came from by referral, the browser they use as well as their operating system.
All data you get from WP Statistics is represented in simple graphs and charts you can filter how you like. If you care about your users' privacy, you will be happy to know this application is completely GDPR compliant. It does not send your visitors' data anywhere. Best of all, it's free. That is unless you opt for the premium version which will cost you starting at $19 a year.
MonsterInsights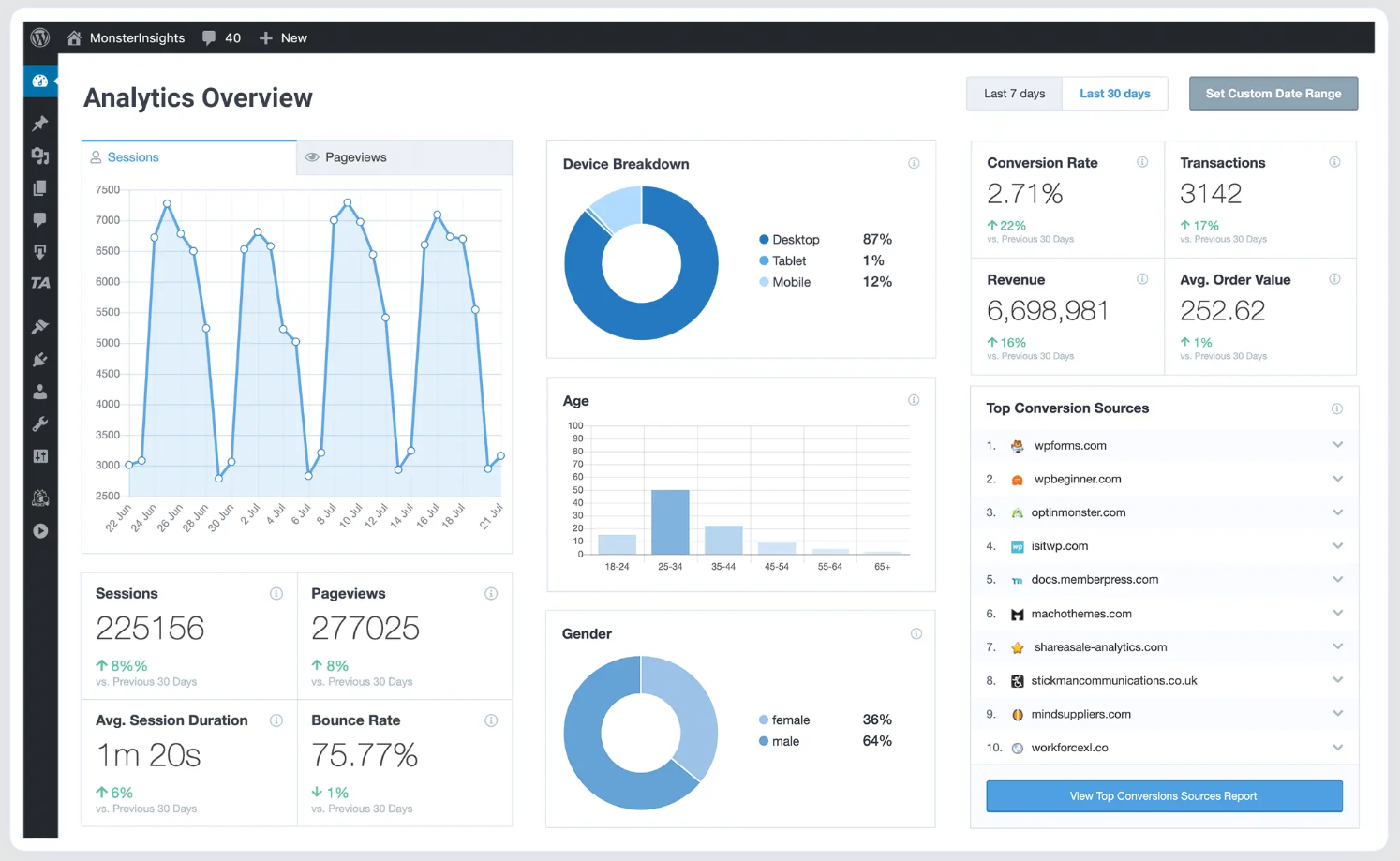 MonsterInsights is on the more expensive side when it comes to analytics plugins. However, it gets you the most comprehensive and neat data you could possibly get. It's popular for a reason. Absolutely no coding skills are required to get everything you need and more to reach exhaustive Google Analytics reports.
Best of all, you can access the data directly from your WordPress dashboard. The info you get is all in real time, and it's very easy to install. It is an advanced tool that offers an abundance of useful features. Stay on track with your SEO metrics, and customize the filters however you see fit. The pricing starts at $99.50 a year.
ExactMetrics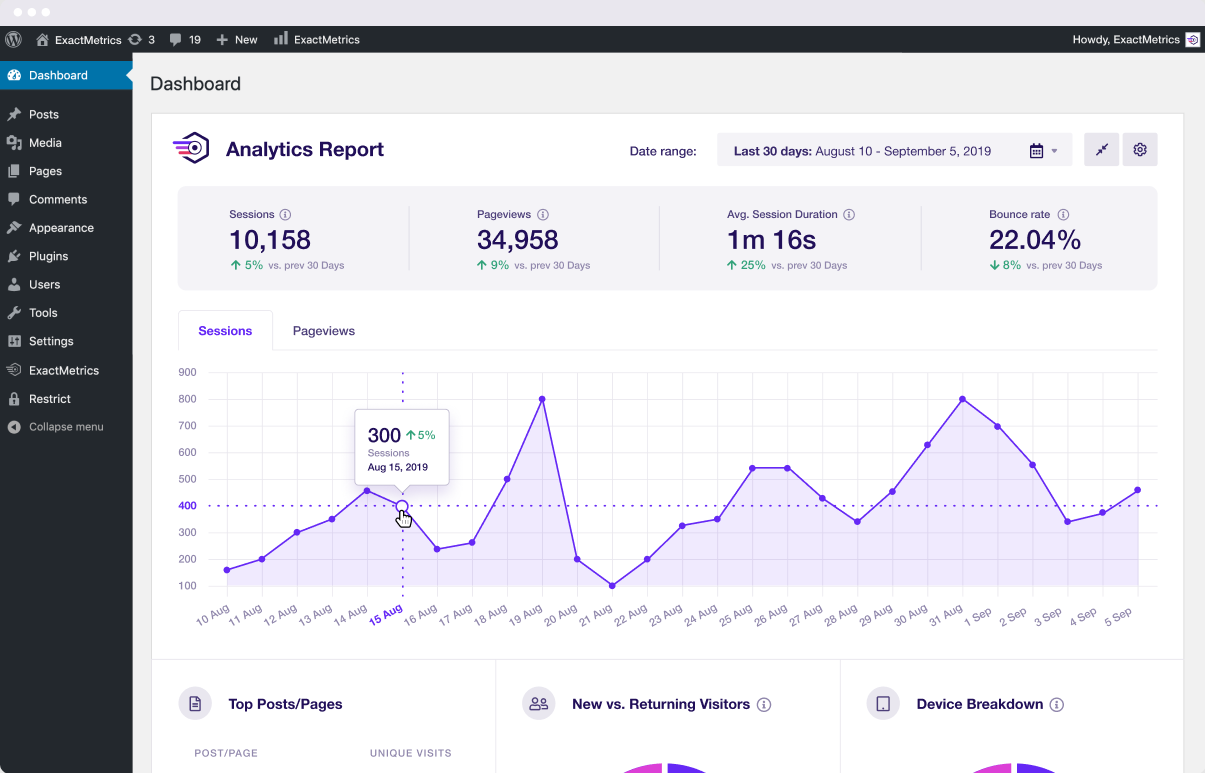 ExactMetrics is definitely one of the most popular Google Analytics plugins you can use for your WordPress site. It's great for immediately seeing surges in your site's traffic since one of its features is fairly accurate representation of the number of your visitors. You get detailed reports as you can tailor the Google Analytics tracking ID, as well as set custom dimensions such as the author and publication year. You can do all of that right from your WordPress interface, too.
Reading the valuable info you get is easy as ExactMetrics keeps it all visualized and clean. Not to mention it also offers you full event tracking for Accelerated Mobile Pages. It offers a free version, as well as a premium one. Just like MonsterInsights, the price starts at $99.50 a year.
Analytify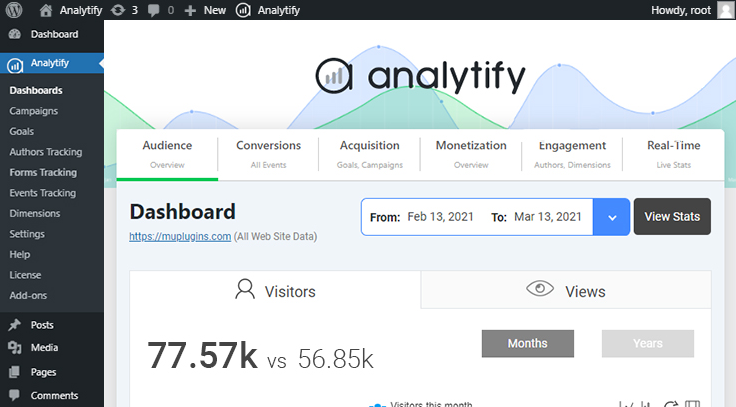 Analytify is another well-organized and easy-to-use plugin. Each page and post you see data for has its own metrics so finding the information you need is a piece of cake. You can create posts such as galleries, portfolios, testimonials and more. You can even customize posts. Naturally, the data you get on them is as detailed as it can get.
If you'd like, you can get automated reports sent to your e-mail. That goes for every page, post and or the overall statistics for your website. Not to mention it fits well for any WooCommerce purposes, too. It starts at $59 a year.
Conclusion
There are many Google analytics plugins, and we picked the top four you should check out. Some of these even offer a free version, so you don't have to commit in any way. However, the premium versions are arguably worth the money. So, if you want to get the absolute most out of Google Analytics tools, check out the paid versions, as well.
While Google Analytics plugins provide valuable insights into website performance, security plugins are equally vital for WordPress sites, and WP Login LockDown excels as the best option by providing top-notch security measures, including effective protection against brute-force attacks, customizable lockout settings, IP tracking and logging, whitelisting and blacklisting functionality, notification system, user-friendly interface, and a proven track record.